Hydro-static Testing (or Hydro Test) is a process where components such as piping systems, gas cylinders, boilers, and pressure vessels are tested for strength and leaks. Hydro tests are often required after shutdowns and repairs in order to confirm that equipment will operate under desired conditions once it returned to service.
Hydro-static testing is considered to be a nondestructive testing method, although equipment can break and fail if it exceeds the specified test pressure or if a small crack spread rapidly.
How does it work?
Hydro-static testing involves filling a vessel or pipe system with water which may be fluorescent dyed to aid in visual leak detection. When the air contained within the unit is totally gone, the system is then pressurized to the specified test pressure which is usually up to 1.5 times the design pressure limits of the unit.
The pressure is then held for a specific amount of time to visually inspect the system for leaks. Visual inspection can be performed to determine where cracks and leaks are originating with the help of fluorescent dyes.
Common Methods
There are 3 common hydro-static testing procedures that are used to test small pressure vessels and cylinders. They are; the water jacket method, the direct expansion method, and the proof testing method.
1.Water Jacket Method
In this method, the vessel is filled with water and loaded it into a sealed chamber (called the test jacket) which is also filled with water. The vessel is then pressurized inside the test jacket for a specified amount of time. This causes the vessel to expand within the test jacket, which results in water being forced out into a glass tube that measures the total expansion. Once the total expansion is recorded, the vessel is depressurized and shrinks to its approximate original size. As the vessel deflates, water flows back into the test jacket.
Sometimes, the vessel does not return to its original size. This second size value is called permanent expansion. The difference between the total expansion and permanent expansion determines whether or not the vessel is fit for service. Typically, the higher the percent expansion, the more likely the vessel will be decommissioned.
2. Direct Expansion Method
The direct expansion method involves filling a vessel or cylinder with a specified amount of water, pressurizing the system, and measuring the amount of water that is expelled once the pressure is released. The permanent expansion and the total expansion values are determined by recording the amount of water forced into the vessel, the test pressure, and the amount of water expelled from the vessel.
3. Proof Pressure Method
The proof pressure test applies an internal pressure and determines if the vessel contains any leaks or other weakness such as wall thinning that may result in failure. In the United States, this method is only permitted when the U.S. Code of Federal Regulations does not require permanent and total expansion values to be recorded.
Alternative Methods – Pneumatic testing
Some equipment may not be designed to handle the loads required for a pressure test. In these cases, alternative methods such as pneumatic testing should be employed. Pneumatic testing is another type of pressure test that involves pressurizing the vessel with a gas such as air or nitrogen instead of water.
However, special caution should be used when performing pneumatic testing as gaseous mediums have the ability to be compressed and contained in larger amounts compared to hydro-static testing.
Pipeline testing
For pipelines, hydro tests are conducted while the pipeline is out of service. All oil and/or natural gas is typically vented off, and the line is mechanically cleaned prior to testing.
Hydro-testing of pipes, pipelines and vessels is performed to expose defective materials, ensure that any remaining defects are insignificant enough to allow operation at design pressures, expose possible leaks and serve as a final validation of the integrity of the constructed system.
ASME B31.3 requires this testing to ensure tightness and strength.
Buried high pressure oil and gas pipelines are tested for strength by pressurising them to at least 125% of their maximum allowable working pressure (MAWP) at any point along their length. Since many long distance transmission pipelines are designed to have a steel hoop stress of 80% of specified minimum yield strength (SMYS) at Maximum allowable operating pressure MAOP, this means that the steel is stressed to SMYS and above during the testing, and test sections must be selected to ensure that excessive plastic deformation does not occur.[c
For piping built to ASME B31.3, if the design temperature is greater than the test temperature, then the test pressure must be adjusted for the related allowable stress at the design temperature. This is done by multiplying 1.5 MAWP by the ratio of the allowable stress at the test temperature to allowable stress at the design temperature per ASME B31.3 Section 345.4.2 Equation 24.
Test pressures need not exceed a value that would produce a stress higher than yield stress at test temperature. ASME B31.3 section 345.4.2 (c)
Other codes require a more demanding approach. For example, BS PD 8010-2 requires testing to 150% of the design pressure – which should not be less than the MAOP plus surge and other incidental effects that will occur during normal operation.[c
Leak testing is performed by balancing changes in the measured pressure in the test section against the theoretical pressure changes calculated from changes in the measured temperature of the test section.
In any case, operators and inspectors should consider the properties of the hydro test fluid medium and how the medium may have an effect on the equipment. For example, water is a good environment for corrosion to take place.
Therefore, equipment should be properly dried and contaminate free before starting operations.
Safety
Hydraulic testing is a hazardous process and needs to be performed with caution by competent personnel. Adhering to prescribed procedures defined in relevant technical standardsappropriate to the specific application and jurisdiction will usually reduce these risks to an acceptable level.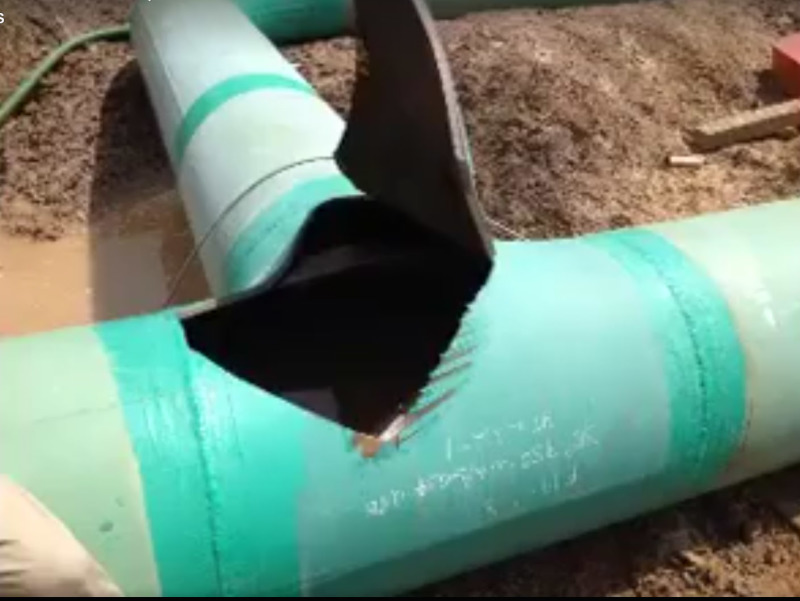 A leak of high pressure liquid can cut or penetrate the skin and inject itself into body tissues. This can cause serious direct injury to the operator, and if the fluid is toxic or contaminated there will be additional adverse effects.
A pressurized hose that is not securely attached or which fails under pressure may whip around spraying water or oil and could hit someone and cause injuries. A whip check can be used to restrain such hoses.
Enclosing the components to be tested, hazard signage, use of appropriate personal protective equipment and providing barriers to access for non-essential personnel are common precautions.
References
Handbook of Compressed Gases, Compressed Gas Association, Inc. ed. 3, pp. 184, 1990.
ASME B31.3
BS PD 8010-2
CSWIP 3.1 course note